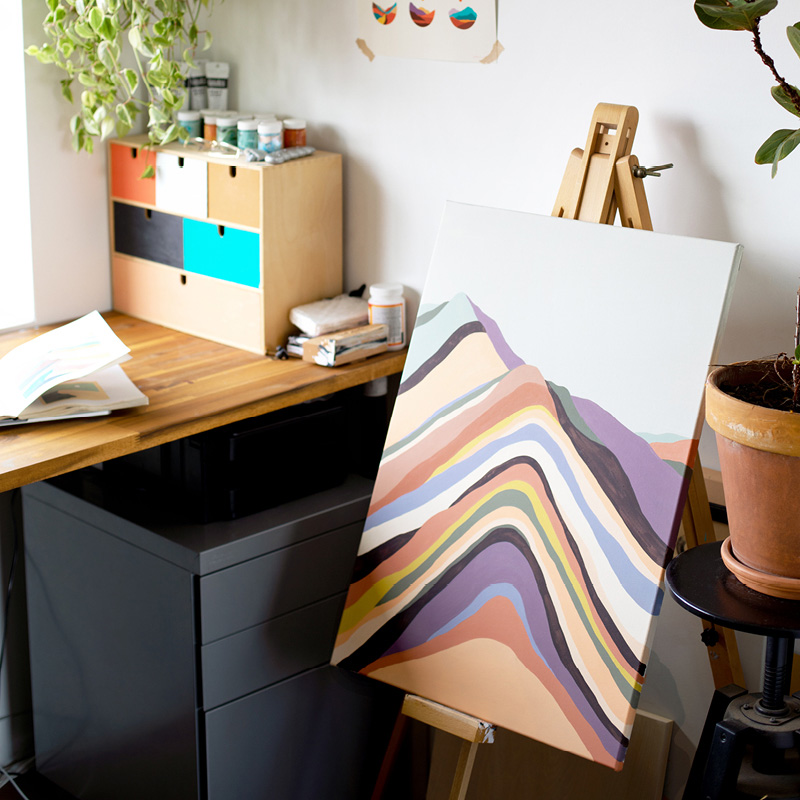 Tell us about your home – who lives here, how have you changed it over time, or made it feel like your own space?
My partner and I bought our home right at the end of 2019. We took our time to get used to the space and then started to slowly collect, build and revamp furniture pieces. We built our coffee table out of an old bed frame, revamped our dining table and chairs, and renovated the bathroom. We were inspired to start adding more colour after I painted the mural in the entryway.
Now with the addition of our daughter it has been a fun challenge to fit in all the baby items!
Can you talk us through the inspiration behind some of your favourite artworks / key Adairs collection pieces?
I really enjoy Pink Mountain. It has elements I have used before where I play with the ridges, shadow and light of mountain peaks. This one is inspired by how light and colour play during sunset. The Day/Night design is also a favourite of mine. It started out as a concept of a snow globe, and while I was playing around with the shapes, it morphed into this sort of reflection of the mountains. This kind of process I really enjoy because I get to explore and play with different ideas without pressure.